Intranet Software Revolution
The digital workplace is revolutionizing at high-speed; leading the charge is the intranet. The intranet is the gateway to employee tools, and all internal applications. From custom-built solutions to portals, and complete digital workplace solutions, intranet software solutions are changing the way we work, fed by trends in artificial intelligence (AI), social computing, and mobile access.
Dominated by Microsoft SharePoint and Office 365, many other intranet software providers are following the leader.
In the early '90s, the first intranets were custom-built, home-grown initiatives; followed by the content management revolution with hundreds of vendor solutions hitting the market. At the turn of the millennium a new burgeoning market was developing: intranet software. Led by so-called 'portal' solutions, the new solutions focused on providing a home page veneer to disparate intranet sites and applications, with a focus on application integration. The portal solutions have evolved to include content management, search, and other features. Meanwhile, content management systems and social media platforms have evolved to incorporate portal features, APIs and search.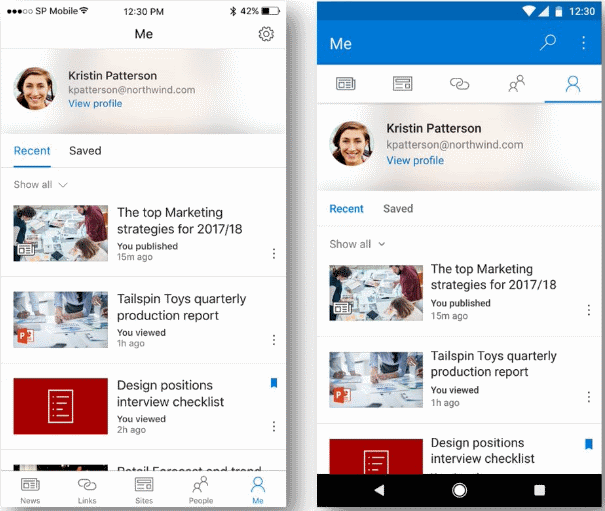 The new SharePoint app, as part of SharePoint 2019 and Office 365
Of course not all intranet software is equal: there are literally thousands of content management systems, portals, social collaboration platforms, web development platforms, digital experience solutions, etc. Though Microsoft controls 70-80% of the core enterprise intranet solution market, not all intranets are ideally suited or require a Microsoft solution.
The most popular intranet software solutions include:
Microsoft SharePoint
IBM Employee Experience
Adobe Experience Manager
Google G-Suite
Liferay Digital Experience
Atlassian Confluence
Jive Jive-n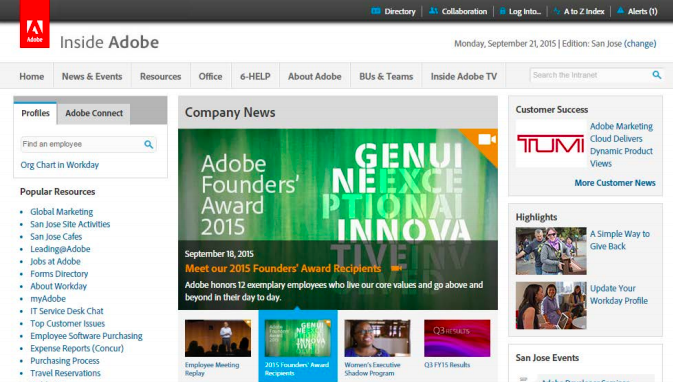 Adobe's own employee intranet, Inside Adobe, using Adobe Experience Manager
The digital workplace transcends all of the above solutions, and represents the total and complete sum of all digital tools and solutions used in the workplace. Intranet software is but one solution.
It's also important to note the obvious: there is no one solution for the digital workplace, no silver bullet technology.