The New Social Intranet 2019
All-the-rage 10 years ago, collaboration on the social intranet is now part of the weekly work routine for most knowledge workers. The social intranet is at the hub of this collaboration and the underpinning technology continues to innovate and evolve.
About 90% of intranets have some form of social component, be that instant messaging, discussion forums, or employee commenting on news articles. A survey conducted by PGi reveals that 88% of industry professionals use online collaboration tools at least once per week. Online conversations and meetings are replacing traditional meetings, and employees are more comfortable sharing data, insights and knowledge across the social intranet.
The social software market is growing at astounding rates. According to Global Market Insights, the collaboration software market size will grow by 13% (CAGR) in 2024 and will exceed US$8.5 billion. Leading this parade is of course Microsoft. Skype, a long-standing player, records more than 300 million users, an increase of 196 million users since its Microsoft takeover in 2010. And SharePoint has close to half-a-billion users. Office 365 already has 200 million users.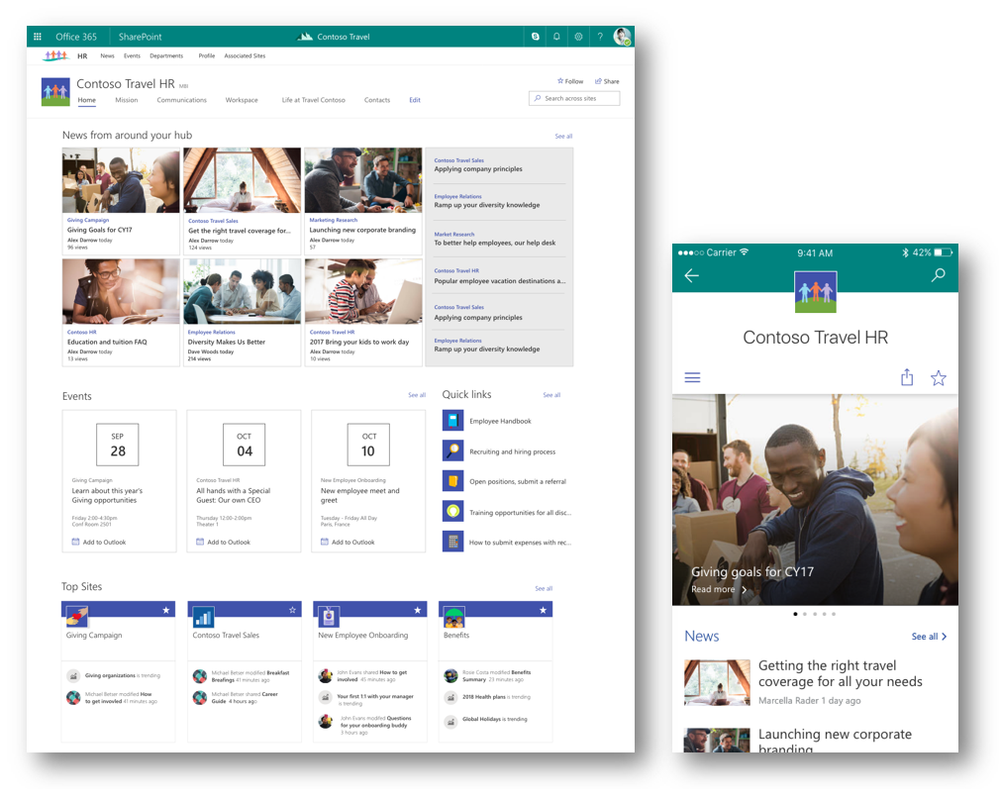 Microsoft SharePoint – Hub Sites
A truly social intranet is one that has multiple social tools integrated not only into the home page and the complete intranet umbrella, but integrated into most aspects of content consumption (think about commenting, sharing and rating) as opposed to isolated in hidden corners of the internal network. So, most intranets are not yet full, true social intranets. Of course, most organizations still have a poor intranet that is horribly underfunded and outdated (at best).
Those that have successful social intranets have active and engaged executives that are using these new collaboration tools, which are supported by significant change management plans.
Collaboration
Technology software solutions aside, the term social is falling out of custom. Increasingly the term 'social', inside the enterprise, on the intranet, is being replaced with 'collaboration'. Most of us understood terms like web 2.0 and social, but they didn't resonate with executives, the people with the money. Nor has the term social loosened a lot of purse strings. In fact, most executives cringe when they hear 'social' applied to employees and intranet. Many big wigs, obsessed with the bottom line, picture Facebook and Instagram, and employees wasting time and money, on the company's dime.
Social is out, collaboration is in.
Mobile Apps
More and more employees are accessing the intranet using their phone or PDA; they're in the minority as the large majority still use a desktop or laptop, but the visits are increasing rapidly. Mobile apps are becoming more and more common. Jive is but one social network platform that has invested in mobile access, and one of the reasons Cisco dumped their own home-grown social network for Jive. In addition, Cisco has more than 60 mobile intranet apps, just for employees, including the Jive social tools, maps, approvals, benefits, etc.
One of Jive's former closest competitors, Limeade (formerly known as Sitrion, formerly known as Newsgator), has gone completely mobile. Once an RSS platform turned social network extension for Microsoft SharePoint, Limeade is now an employee app platform company.

SharePoint has launched its own dedicated app that provides a far better, easier experience for employees accessing the intranet via their phone. SharePoint infuses AI into the mobile app experience by highlighting the most recent sites you've visited, the most recent documents you've worked on, and people you most interact with.
Artificial Intelligence
Artificial intelligence (AI) is already being used on the intranet; IBM has been doing so for years. Prime examples of AI at work are chatbots. A chatbot is a computer program designed to simulate conversation with a human user. A chatbot is simply a means for a computer to respond to an inquiry by a user – which could be text-based, audio-based, or even visually based.
CNN uses chatbots to summarize news stories; Associated Press has a chatbot that serves up thousands of summaries every day. The technology has been around for a while and people are now becoming comfortable interacting with ("talking to, and hearing back from") chatbots (Microsoft's Tay, aside). The question for intranet managers is how and where best to incorporate this core capability.
Self-service technical support is an area of big potential. Instead of waiting for a live person, and wasting 20 or 30 minutes to resolve a simple problem, such as password resets, access requests for limited use applications or databases, adding or deleting users. Instead employees can send a message to a chatbot on "how do I reset my password?" and the information they need right away, or have a bot actually fix the problem.
Liberty Mutual Insurance created its own AI-powered digital assistant that works alongside the enterprise intranet. It simplifies employees' day by managing their to-do lists, notifications, approvals, workflows, messaging and social media in a single, modern, and intelligent intuitive interface.
Liberty Mutual's digital assistant was so successful with its employees that the company recently launched the solution as a spin-off software company called Workgrid.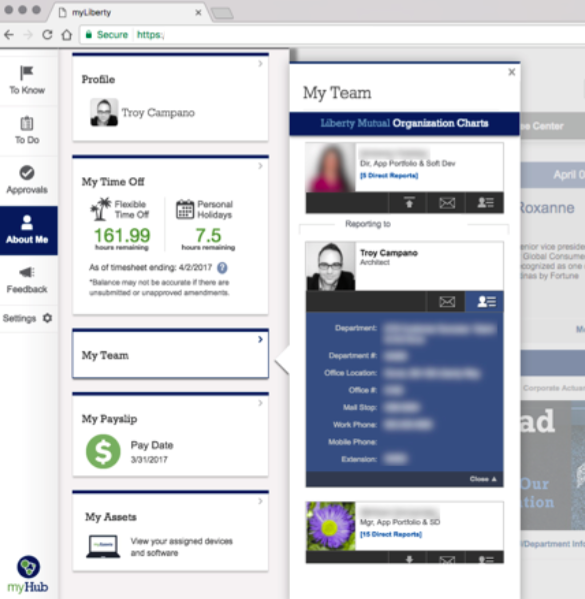 Social Intranet Solutions
A number of new solutions are making waves and gaining attention. Slack continues to be the darling solution of tech media even though it has been around for a few years. Though it's not an intranet in a box, and not even an enterprise social network (ESN) it is a heavyweight instant messaging and collaboration platform, akin to Skype, or the new Microsoft Teams. It's not a standalone ESN, but its far better than the woefully frustrating Skype for Business.  Slack spawned a number of competitors, including two that started to threaten them, so Slack bought them (HipChat and Strive).
A number of other tools continue to make waves like Facebook Workplace, and of course, Microsoft Teams.
Slack
Slack Technologies gets a lot of print and hype. Slack is akin to Skype on steroids, with threaded discussions, and without the technical hiccups and interoperability problems of Skype.
Slack is a communications tool that promotes team chat, collaboration (basic file sharing) and notifications. It promises "no more email" – the ridiculous siren's call of so many vain social marketers before them (remember SocialText?). To be sure, Slack will not eliminate email, it will add more distraction and messages to your day, but it is a far more robust platform than Skype.
If you want a cool tool or want to appear cool, then Slack is worth a look. Although, the news that hackers are using Slack to 'hide' malware communications should sound a few alarms in IT security departments (Hackers use Slack to hide malware communications).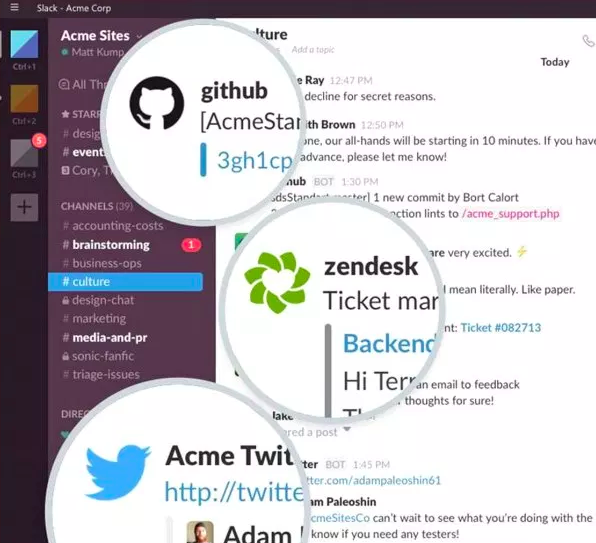 Flock
Flock is a messaging app founded in India, hot on the heels of Slack, in 2014. This messaging tool features group chat, video and audio calls, screen sharing, polls, notes, reminders, and to-do lists. Flock supports multiple language interfaces – particularly Spanish and Portuguese.
Comparable to Slack, with more of a focus on video chat and multimedia, Flock has a more complex user experience, (5-columns versus 3-columns), but is faster and more responsive than Slack. It is cheaper than Slack, and has an unlimited message history. Flock also integrates with other favorite external tools like Google Drive, Dropbox, Jira, and Trello.
All-in-all, Flock is a more robust, cost-effective alternative to Slack without the massive following.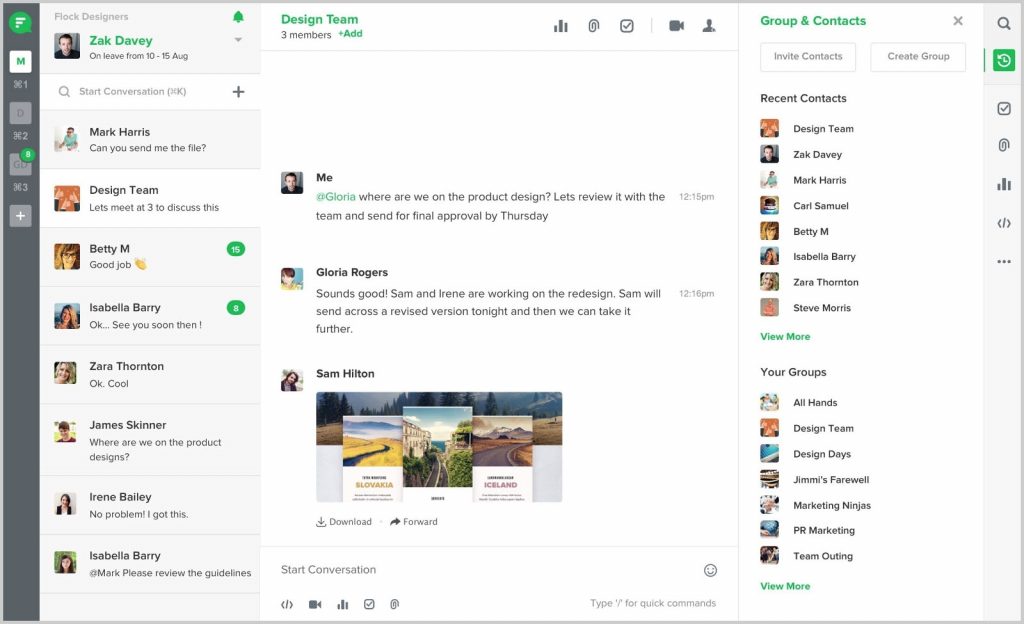 Chanty
Where Flock tries to do more, for less, Chanty wants be a more simple. Chanty is a newcomer, with a cheaper, more simple solution than Slack. Chanty offers twice as much storage space and user files, links, tasks, and conversations are neatly organized in a single "Teambook."
"While Slack is getting more complicated with hundreds of little-used capabilities that get in the way of the handful that are really important, Chanty keeps the balance between features and usability," says the creators of Chanty. "We have opted to stay simple yet to have just enough powerful features a team needs for effective work.
A built-in task manager allows you to turn any message into a task and get notified when it's done. It also has an unlimited searchable message history even in a freemium plan (compared to Slack which only searches 10,000 messages, which in some organizations is only a few days work).
Facebook Workplace
Facebook Workplace launched a couple of years ago, with great fanfare, but few paying companies. Several years on, it's nearly identical to Facebook.com in its look, feel and function. It's user base is a drop in the bucket compared to Microsoft, a mere 2 million paying customers.
It's far from a true intranet solution, and a struggling enterprise social network at best. I honestly don't get it; and I don't see any value in this offering compared to others. It's a website rebranded as an intranet. I repeat: an intranet is not a website.
You can try if for free for 90 days, but it's going to cost you after three months.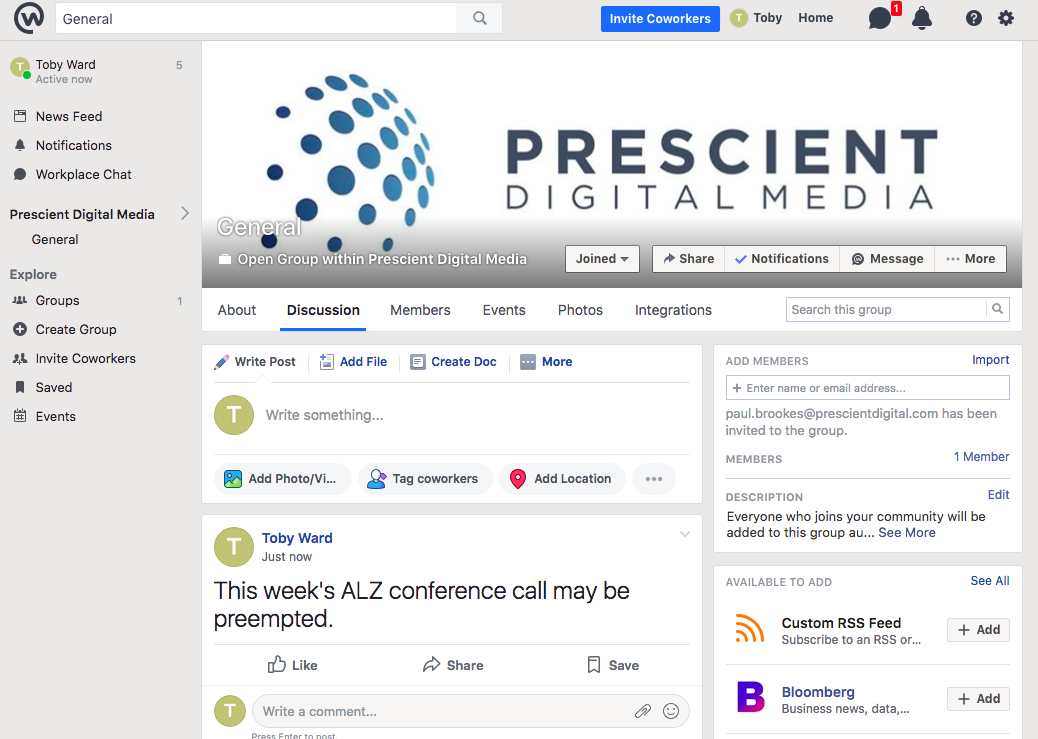 Microsoft Teams
Speaking of Microsoft, they are most definitely the leader, if not the category gladiator. SharePoint, particularly Office 365, aims to be everything to everyone. And it's becoming increasingly social, particularly with the release of Delve (which enhances and replaces My Sites) and Microsoft Teams.
Microsoft Teams is an interesting addition to Office 365; many liken Teams as Redmond's answer to Slack. It's a little more involved than Slack, but hardly as cool. It does, however, integrate with SharePoint Online, and Skype, and is definitely worth a look if you're already a Microsoft customer. Despite some pundit reports, those that don't have a clue, Microsoft Teams is not a replacement for Yammer (speaking of social tools on their way out), but a completely different tool.
The threaded discussions and file sharing reminds the user of Slack, but it also comes with traditional SharePoint libraries, and wikis. Additionally, within Teams a user can initiate chat or video calls. There are tons of integration points and additions with other third-part tools (we've integrated in Asana for project management) including Yammer. Microsoft has just announced that it's now possible to add a Yammer group as a tab in a Teams channel, making it possible to access Yammer activity without leaving Teams.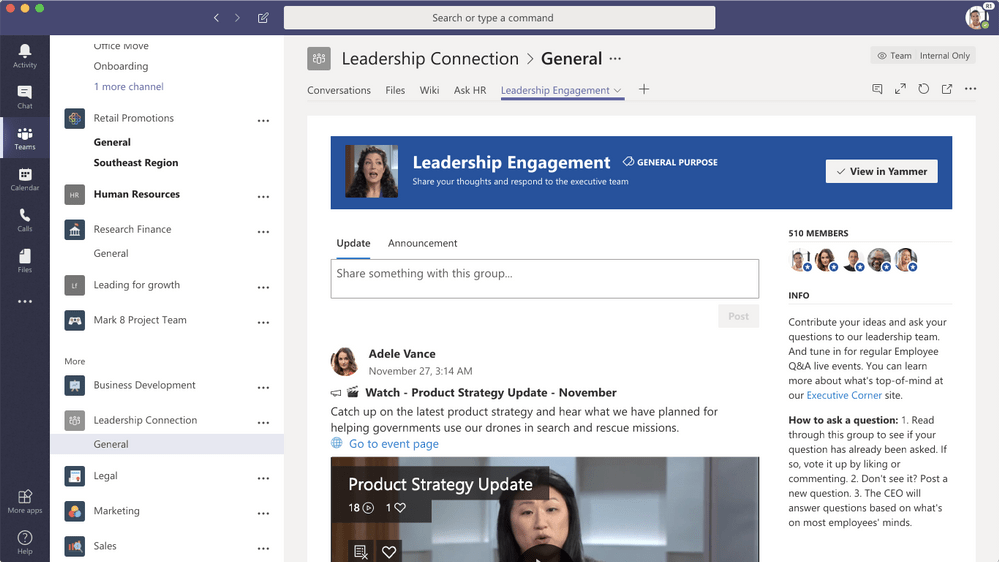 There are literally hundreds of solutions vying for your attention and dollars, too many to feature here. But a few are worth watching:
LumApps
Asana
Jostle
Huddle
Interact
See the latest & greatest in social intranets in the free webinar (replay): The New Social Intranet
Free download for the white paper Great Intranets: From Design To Social